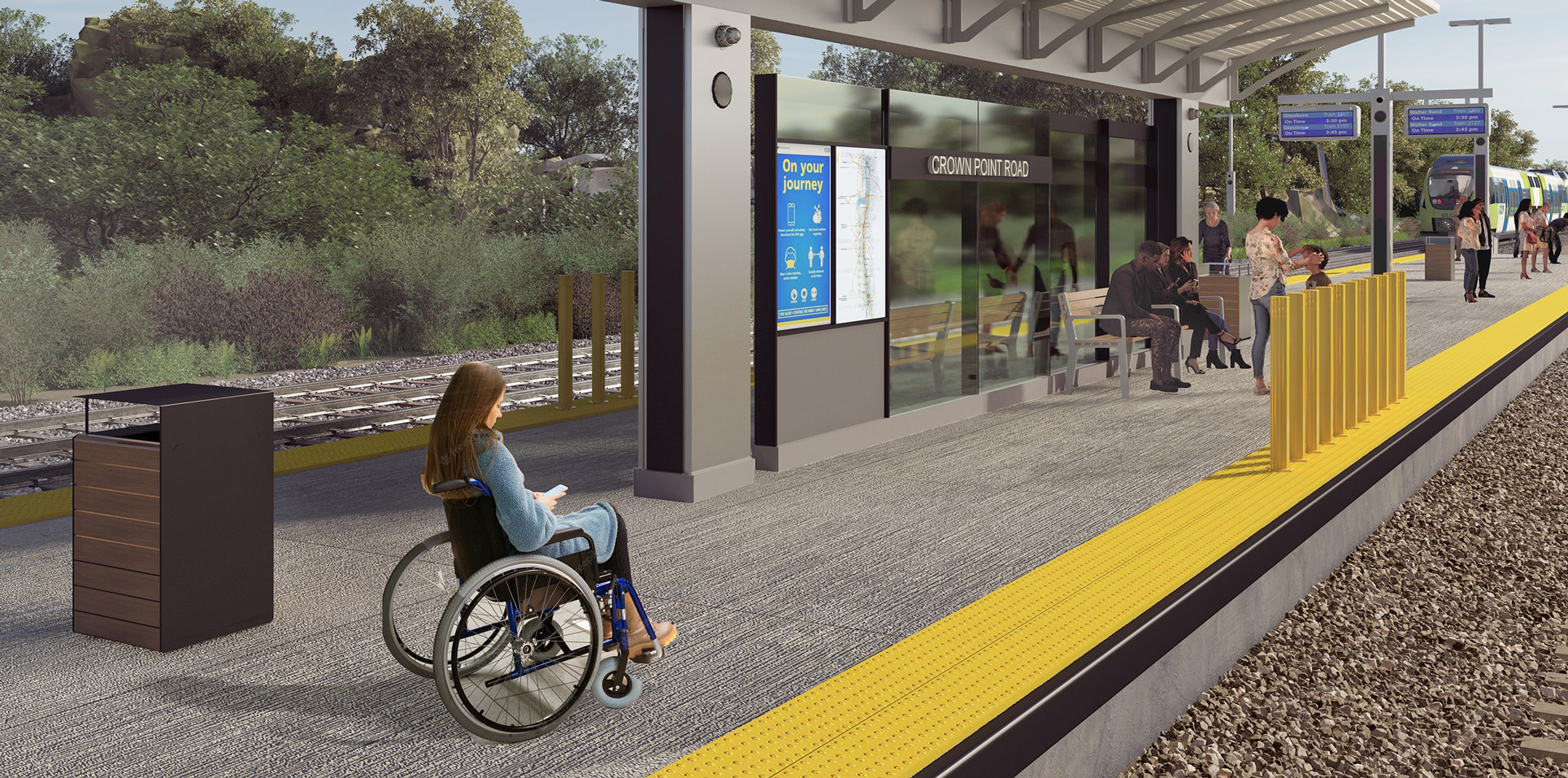 The Glassboro-Camden Line (GCL) will revolutionize the South Jersey commuter experience as it restores passenger-rail service along an existing rail line. The GCL Project Team is committed to providing accessible rail service for all. In doing so, the GCL will have user-friendly stations located approximately every one-to-two miles along the line with two types of platforms: center and side platform.
Center platforms are designed with tracks on both sides, allowing trains to move simultaneously in opposite directions. Commuters will experience unparalleled ease with inbound and outbound trains efficiently stopping on opposite sides of the platform. This setup permits effortless transfers between sides, ensuring that passengers can change directions without the need to leave the platform.
Side platforms will feature tracks positioned between the platforms. Trains will move in opposite directions between the platforms, offering an alternative configuration to accommodate varying station layouts and space constraints. Side platforms present an effective solution in scenarios where space and track layouts need different arrangements.
"Many factors influence the type of platform a station will have," stated Delaware River Port Authority Chief Engineer, Mike Venuto. "Throughout the preliminary engineering design phase, our team is meticulously exploring the complexities of these factors, including space availability, track layouts, and projected volume of commuters. Our primary goal is to optimize the station design to meet the diverse needs of the communities we serve."
In alignment with the GCL's commitment to inclusivity, all stations will be ADA-accessible, ensuring that every passenger can experience the convenience and comfort of rail travel. The GCL Project Team is dedicated to making the journey smooth and enjoyable for all.
For more information and updates on the GCL project, please visit www.glassborocamdenline.com/